Horse Education - Kersbrook Equestrian Centre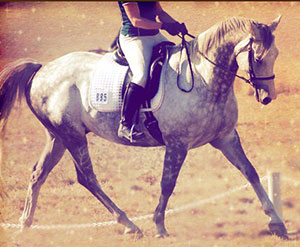 Horse Education
Please contact Kersbrook Equestrian Centre for further information.
Would you like your horse to have solid foundations for future success? How about the opportunity to work hands on with your horse through its foundation training? If you're about to start your young horse's education you of course want the best possible outcome, and a foundation that will ensure future success... whatever your riding interests.
When learning theory is applied to horse training the consistent results are horses that are calm and obedient. There is no confusion, and the training is error free. Academic Horse Training, as developed by Australian trainer Dr. Andrew McLean and his wife Manuela, gives all horse owners a reliable, user-friendly training toolbox.
Nicki Stuart has worked with this system for a decade. She is accredited with a Certificate of Equitation Science and she knows firsthand how beneficial this approach is to horse welfare. Nicki is also a member of the International Society for Equitation Science.
Nicki has seen the need for owners not to just send their young horse to a 'breaker' for a set time period. Horse owners are offered the opportunity to participate at every stage of their horse's foundation training, giving them the knowledge that will benefit their future together.
This logical, progressive system will enhance your relationship with your horse in every way. While your horse is here for training you can attend as often as you like. The pace and length of the training placements will be sympathetic to the individual horse and your personal situation.
If you'd like to know more about Foundations for the Future at Kersbrook Equestrian Centre please contact Nicki. She'll be delighted to tailor a program to your individual requirements.
Other services on offer include:
Pre-purchase Horse Assessments - Sale Preparation and Presentation - Re-training